Mindframes translates complex content into inspiring visuals, making information accessible for all.
We produce (animated) infographics and e-learning for a wide range of clients in the worlds of health, education, publishing, finance, arts and heritage.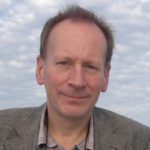 Mindframes was founded by Creative Director Peter Knudsen in 2006.  His studies in Philosophy, Film, Theatre and Education prepared him for a career as a writer, editor and producer in educational broadcasting and publishing.
With the arrival of cd-rom and the internet, Peter saw their potential for education early on. He crossed over to the world of multimedia design and e-learning, working as an instructional designer and project manager for training companies and publishing houses.
After securing dozens of innovative projects, Peter could no longer resist the urge to establish his own company, enabling him to freely choose his projects and  explore new possibilities of visual storytelling.
Nowadays, Mindframes combines Peter's broad experience as a creator of e-learning with his passion for infographics and animation.
Mindframes is based in Utrecht, Animation Capital of the Netherlands.